What We Do
Flow System Training and Assessment
The Flow System is unlike other prescriptive frameworks and methodologies. It does NOT prescribe a one-size-fits-all approach. Instead, we seek to develop you as extensive thinkers and practitioners, supporting your development of deep skills and knowledge through the learning and application of practices.
We do this by offering expert training and assessment programs modeled as a true university grade masters degree approach. One of the co-creators is Professor John Turner from the University of North Texas and he is primarily responsible for developing the extensive curriculum we offer.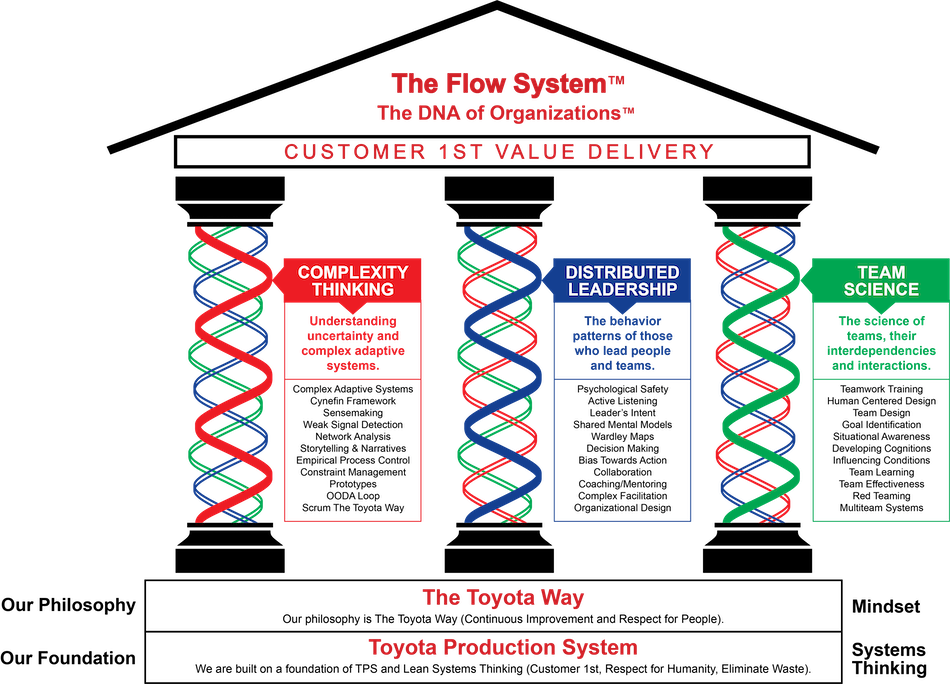 Why Learn The Flow System
Develop deep expertise in key disciplines needed and demanded by today's organizations.
The Flow System™ enables business growth by eliminating non-value-added activities by fostering an environment for innovation and the rapid delivery of value and shortening the time to market.
The Flow System™ is a holistic FLOW based approach to delivering Customer 1st Value. It is built on a foundation of The Toyota Production System, also known as TPS and LEAN, plus a new triple helix structure known as the DNA of Organizations™.
The Flow System™ provides an understanding of different methods, patterns, practices, and techniques that enable organizations or institutions to achieve their desired outcomes.